Our return to EMO MILANO 2021
Exhibitions
Discover how MEP managed the restart of the exhibition activities at EMO MILANO 2021.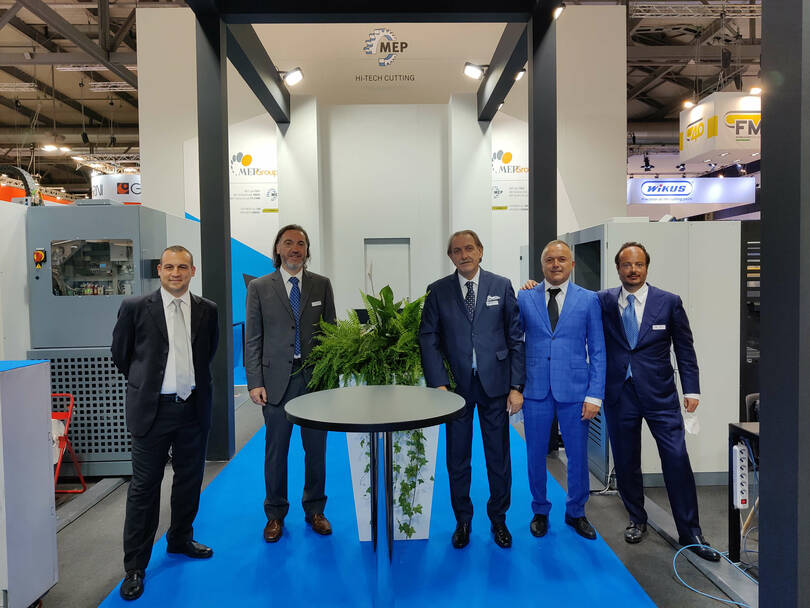 Besides the huge change in our habits, 2020 caused the stop of exhibitions and events that have always been one of the main activities of our company. Fortunately, since this summer, the situation has changed thanks to the restart of conferences and exhibitions in attendance. As a result, we as Mep Spa immediately decided to restart by taking part in some events, among which the international exhibition EMO MILANO 2021. As a matter of fact, this is the main exhibition for those who work in the manufacturing industry world, from forming to removal, from robotics to automation, from tools to auxiliary accessories and from mechatronics to additive technologies.
This was not our first time at the exhibition but, without any doubt, it was like a second beginning and a return to normality in contact with our customers and people interested in our best cutting solutions. This year, we decided to bring with us five historical and innovative models of automatic circular/band sawing machines that are: SHARK 230-1 NC HS 5.0, SHARK 350 NC HS 5.0, SHARK 332 RC KONNECT, SHARK 460 KONNECT and VELOCEX 125. The choice fell on these models to show the exhibition audience the importance that our company has always given to know-how, technology and automation.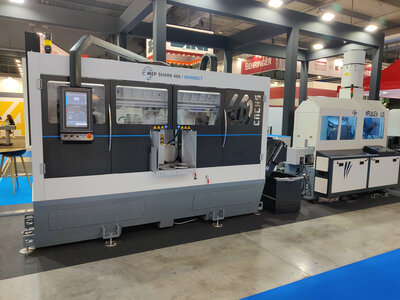 At the end of this experience, we can say that the current pandemic has led to some changes in the Italian exhibition movement: we are talking about distancing, wearing masks and all personal security devices up to the restriction on shacking hands to old friends and customers. Nevertheless, it was a great pleasure to return to propose our metal cutting solutions in person and no longer via phone or email as in the last two years.
In addition to anti-covid measures and despite the international nature of the exhibition, there was a decrease in the number of international visitors and, in particular, those from the Middle and Far East. In general, it can therefore be said that attendance at the fair was still very high but mainly at European level, as a result of travel restrictions still in force for some countries. At the same time, a new approach of the majority of visitors emerged: as a matter of fact, we noticed that the people who visited our stand were really interested both in our models and in making possible investments in the short or medium term.
As regards the latest from the sawing machines and cutting world, automation and Industry 4.0 have been the absolute protagonists of the event. Actually, most machine tool exhibitors had highly automated solutions, thus highlighting the importance this reality represents today in the manufacturing industry world. We are glad to have had the opportunity to show our highly automated proposals thanks to the KONNECT models and the Industry 4.0 Ready - IOT kit already available in many of our machines. At the same time, the exhibition showed a growing interest in the realization of precise and angle cuts through increasingly automated processes: in this case too, Mep distinguished itself thank to its range of sawing machines ideal to execute accurate 0° and miter cuts with controlled automatic rotation on several types of metals.
To conclude, we can only say that our return to the exhibitions in attendance was more than satisfactory, thus giving us hope for the immediate future. It was a great pleasure for us that visitors have returned to see in person the efforts made to meet the new market needs without ever forgetting the values that have always characterized our company. Finally we are back and we are ready to face the constantly evolving needs of the manufacturing industry!