SHARK 332 RC KONNECT: KONNECTing Ideas!
News
How is a MEP machine conceived? These are the main processes and technologies behind the construction of the SHARK 332 RC KONNECT sawing machine.
Are market needs inspiring ideas or the opposite? Our SHARK 332 RC KONNECT was undoubtedly the best answer to both questions, with a unique and innovative style.
THE MARKET
This sawing machine is primarily designed for those companies operating in the metal forming field and, in particular, the construction of metal structures, frames and furniture, medium-light carpentry and building.
THE NEED
For these types of activities, miter cut is both the most critical and important aspect, because obtaining a precise cut both in perpendicularity and in orthogonality means to create a smooth production flow avoiding any rework and, at the same time, to obtain a high-quality standard. Moreover, the need to have an automatic CNC machine is linked not so much to the demand of a large production, but rather to the guarantee that the production generated is in line with expectations. Consequently, the request was to insert all the cutting parameters so that the operator no longer represented a "variable" (in fact, he will now only have to think about loading and unloading the machine).
THE SOLUTION
In designing the sawing machine, it was immediately clear that we had to create a product that was "operator-free" and safe in the eyes of the owner or production manager, so that he could obtain the required production regardless of who operated with the sawing machine, thus avoiding the creation of any scraps.
These were the key points of the proyect:
"Saw in the box" style with alarmed inspection doors for maximum operator's safety;
In case the machine works with an automatic bar feeder, trims and remnants of the bar no longer feeded are automatically pushed out, without any operator intervention for their removal;
Material library for the automatic setting of the cutting parameters according to the type of material;
Material shape management software according to the angle set;
Machine working cycles programming also remotely (by means of the optional MES kit);
Optional internal camera to monitor the machine while running and/or in case of remote after-sales service (visible from both PC and any portable device).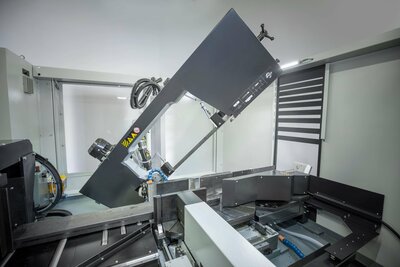 The result was a high-tech and flexible sawing machine designed to work in complete autonomy, thus representing an added value for the buyer.
ANOTHER IDEA HAS BECOME REALITY!