SHARK 460 KONNECT: BE-KONNECT!
News
When the evolution of a well-established sawing machine in the market becomes a challenge and a bet that, as always, we will win!
The dual column sawing machine SHARK 420 CNC HS 4.0 has been revised by increasing its cutting capacity from 420mm to 460mm and by putting a real PC as the main control of the sawing machine. Thanks to these adjustments, we have designed and manufactured a new sawing machine model, SHARK 460 KONNECT, which is suitable for 0° cuts on any kind of metals (stainless and light alloy steels, aluminium, copper and bronze).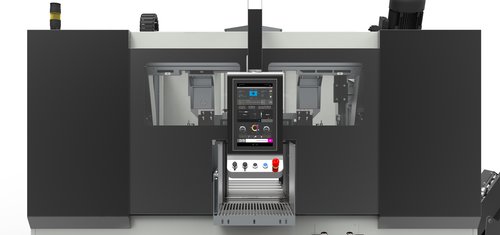 THE MARKET
This sawing machine model has been designed to satisfy, in a simple and reliable way, the wide range of cutting needs of all those companies operating in the field of chip removal, service centers or mechanical workshops.
THE NEED AND THE SOLUTION
Most of the companies interested in this type of sawing machine have the following needs: cutting on hard metals, medium-large production batches, precision on both length and perpendicularity and, last but not least, optimized production plant footprint.
Blade life is another extremely important feature because it is directly related to the "cost-per-cut". Therefore, we had to create the ideal conditions for the 41mm blade to perform at the best:
Automatic blade tensioning through servo motor, kept constantly monitored while cutting;
Automatic import of the ideal cutting parameters thanks to the material library;
Significant vibration reduction thanks to the cast-iron saw head structure;
Adaptative saw head down feed rate: self-regulation in real-time of head down feed rate according to the type of material or blade wear.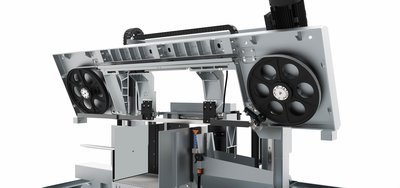 In addition to the importance of the blade life, the sawing machine design phase focused on the following key points, which allowed to obtain a remarkable level of precision and speed:
"Saw in the box" style with alarmed inspection doors for maximum operator's safety;
"Operator-free" system requiring only the material positioning by the operator, after which the saw head and the vices set automatically;
Saw head down feed rate through servo motor and ball screw;
Material library for the automatic setting of the cutting parameters according to the type of material;
INDUSTRY 4.0 READY;

Management and programming of machine working modes even from remote (through the optional kit MES called "MePlan").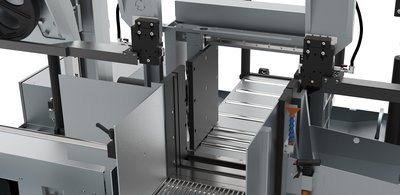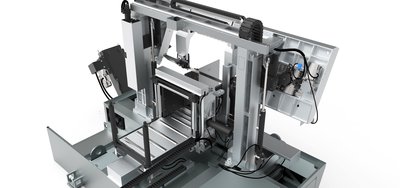 To conclude, the SHARK 460 KONNECT is a cutting-edge sawing machine for metal cutting that perfectly combines technology, power and precision, thus representing a guarantee in the field of chip removal.