This is how MEP has joined the medical sphere thanks to cutting solutions designed for bioprinting.
News
Medicine has ancient and sometimes discussed origins but, despite these uncertain origins, its main goal has always been clear: to make us live longer and in better conditions.
The XXI century is the century in which awareness about the potential of technology plays an increasingly important role in the field of health and medicine. Actually, the future of health seems to be more and more in the hands of technological sciences too.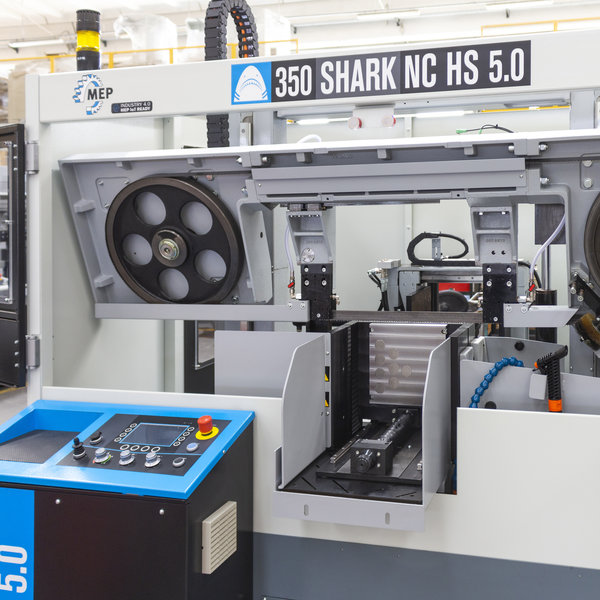 Technology applied to the medical sphere is the main application field of the Italian group we have helped by developing a system to cut titanium used in the production of orthopedic solutions directly from 3D printing plate.
This collaboration with the division involved in the study and manufacture of specific prostheses for patients made of innovative materials comes from the need to cut off prints of special elements in T. Titaniumin in a quick but accurate manner.
Another challenge for our engineers, another work for our SHARK 350 NC HS 5.0, a dual-column automatic band sawing machine!
What are the strength points of our SHARK 350 NC HS 5.0?
– The cast-iron structure absorbs vibrations and provides the sawing machine with a great stability while cutting.
– The automatic acquisition of the cutting start position reduces the operation time.
– Control of the saw head powered by a hydraulic cylinder on linear guides with preloaded ball screw slides guarantees maximum reduction of mechanical vibrations
– The adaptative cutting force control device allows to perform cuts with an excellent surface in any condition, even in case of worn-out tool.
– The frequency drive manages the saw head motor and maximizes its performances.
We are proud to have been chosen by this expert group very well known for its great efficiency, reliability and professionalism and, at the same time, to be part of this important process providing surgeons, whom constantly look for a continuous improvement of their patients quality of life, with high quality products.